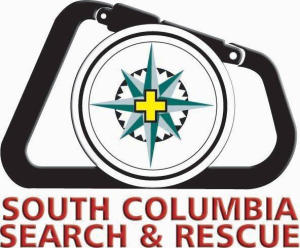 "Our Mission is to provide volunteer emergency services to the general public, to find them when they are lost, to render medical aid when they are hurt, and to rescue them from dangerous environments they encounter. We promise to always respond when called upon, 24 hours a day, 365 days a year. South Columbia Search & Rescue will always have highly trained and skilled rescuers to provide safe, reliable, and efficient services."
South Columbia Search and Rescue (SCSAR) is a dedicated group of professional volunteers who provide emergency services to the RCMP, BC Ambulance Service, and BC Coroners Service. Our primary roles are to find and assist people who become lost or injured within our service area and support local authorities during natural disasters or mass casualty incidents.
Our service area encompasses the municipalities of Trail, Montrose, Fruitvale, and Salmo and the area west of the Columbia River to the Kootenay Pass and north from the US border to the Village of Ymir. We regularly assist neighbouring SAR groups through mutual aid requests and provide specialized search and rescue support across the province as needed.
We acknowledge the financial assistance of the Province of British Columbia.
Our members regularly participate in ongoing training in specialized rescue techniques including:
Ground Search and Rescue
High Angle Rope Rescue
Avalanche Response
Swift Water Rescue
Advanced First Aid
Tracking
K9
We are always in search of new members to fulfill a wide variety of rolls.
If you are interested in joining SCSAR, or would like more information, please Contact Us.

People of BCSARA
BC Search and Rescue Association Video